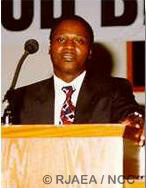 Lovingly referred to as a "Man of Faith," the First Successor of the New Covenant Church was the late Bishop John Henry Sorrells, Sr.
Born on December 15, 1953, the late Bishop John H. Sorrells, Sr. was a native of Austin, Texas. After hearing the Gospel of Jesus Christ preached by Bishop Roland James Allen, he professed Christ as his personal savior on September 16, 1977.  As a result of his faithfulness and the many deeds he accomplished through his dedication to Christ, the Lord called Brother Sorrells into the ministry on July 7, 1991.  Brother Sorrells went on to become the First Successor of the Roland James Allen Evangelical Association and Head Bishop of the New Covenant Church on May 28, 1995 upon the death of the Founder, Bishop Roland James Allen.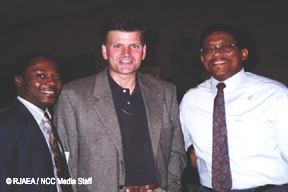 During his brief ministry, Bishop Sorrells evangelized in:
Punta Gorda, Belize, Central America Alice, Texas Poteet, Texas Georgetown, Texas
His open and friendly personality endeared him to many, especially the young. Bishop Sorrells' last memorable contribution to society was to establish the New Covenant Church "Boomlets". The children of the New Covenant Church needed to express their love for Christ in their own way, and through Brother Sorrells, the Lord met their need.
The Boomlets took on the mission to spread the "Good News" to their peers that the alternative to drugs, suicide, teen pregnancy and violence is Jesus Christ. They communicated their message through the music of today's youth. Bishop Sorrells was so proud of these young people that at each of their performances, he introduced them with the following statement – "Ladies and gentlemen, I am proud to introduce to you the New Covenant Church Boomlets."
Bishop John H. Sorrells, Sr. entered into rest on March 20, 1997.  His ministry was brief but mighty and he is truly missed.