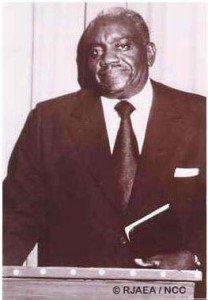 Bishop Roland James Allen
Founder of the Roland James Allen Evangelical Association dba New Covenant Church
The late Bishop Roland James Allen was the Founder of the Roland James Allen Evangelical Association (RJAEA) doing business as (dba) New Covenant Church (NCC).
In the year 1950, Bishop Allen professed a hope in Christ after accepting the sermon preached by Evangelist Billy Graham, whom he honored as his father in the Gospel.  After his conversion, Bishop Allen was later called into the ministry of our Lord and Savior Jesus Christ. On February 27, 1970, the Roland James Allen Evangelical Association was founded, instituting a Board of Trustees, doing business as New Covenant Church, a non-profit, non-denominational organization.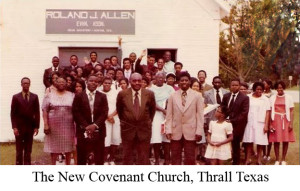 Bishop Allen's ministry started in his home, where he would gather the neighborhood children and share with them the goodness of the Lord. These children grew into young adults and many remembered his teachings and accepted Christ into their lives. This ministry blossomed from approximately twenty members to well over two hundred while still maintaining its loving "family" appeal.
Early in his ministry, Bishop Allen made a commitment to the Lord that he would go wherever the Lord sent him. With his evangelical spirit, the first missionary works of Bishop Allen's ministry were street corner prayer meetings; visits to those in jail; nursing homes; other states and overseas; and as many places as God would later send him.
As his ministry grew, Bishop Allen established a ministerial staff, and a deacon and trustee staff of various nationalities to help spread the Gospel. The church motto was chosen: "We Welcome All Races" – and the evidence of the love of God that was in him was that the church membership was of various nationalities which shared the common bond of the Holy Spirit and the love of God. The New Covenant Church Choir was organized and several vocalists were selected.
A small sample of Bishop Allen's numerous accomplishments to the furthering of the Gospel includes over fifty inspirational books, along with tracts and pamphlets addressing life's problems:
Samples include: God Has Saints On The Earth, The Judgment Day Is Sure To Come, The Dead. Where Are They?, The Fiery Black Destiny, The First Resurrection, and The Three Great Steps In Christianity.
As the head of a self-supporting ministry, Bishop Allen also established a sick committee to see to the welfare of fellow brothers and sisters. Healing was also a great part of his ministry. Believing that God can do the impossible, Bishop Allen often executed his faith, and through his faith, many were healed of their afflictions. Forty-five years after receiving Christ as his personal savior, God called him to rest on May 28, 1995.